Barber's Waiting Game
March 26th, 2013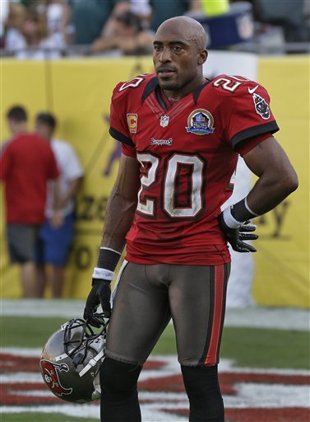 Joe's getting a real kick out of this waiting game Ronde Barber is playing. Yeah, like Joe's supposed to believe Barber doesn't know yet whether he wants to play in his 17th NFL season.
Speaking on NFL Network last night (here's part of the video), Barber left virtually every door open for himself — including joining a team outside of Tampa — as he takes his sweet time deciding on the contract offer presented to him by the Bucs early this month.
So what's Barber waiting for?
Joe has to believe Barber wants to know whether the Bucs will guarantee him a starting cornerback job. After all, every decent free agent cornerback is all but guaranteed a starting job before signing on the dotted line. Eric Wright would be an example of that last season. Why wouldn't Barber, a durable veteran who can still make plays, want the same assurance?
Barber made it quite clear that the Bucs brass advised him they'd be active on the open market trying to upgrade the secondary but they wanted him back regardless.
Joe can't blame Barber for wanting to see what the regime's real intentions are before committing, though Joe is a bit surprised Barber's ego hasn't already driven him to sign the contract and be confident he can win a starting job.
And that brings Joe to Barber's motivation. If Barber's looking to be embraced with a starting gig, perhaps he would actually consider playing for a contender like Atlanta, New Orleans or San Francisco, strong teams in need of cornerback help. That would be a travesty.