Rushing The Ball
February 15th, 2013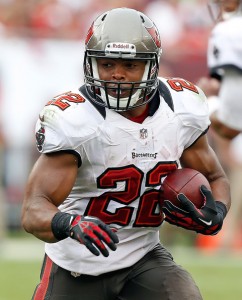 There's a cool site out there Joe doesn't hit on enough. Sure, it's a stats-heavy site, but not oppressively so.
Plus, like Joe, they try to have fun with their information and also try to work in eye-pleasing photos of lovely ladies. That never hurts. The place is called ColdHardFootballFacts.com.
A couple of weeks ago, a cat there named Ken Crippen devised a formula involving fumbling to determine not only who was the most valuable rusher in the NFL, but what teams ran the ball the best, and also what defenses were best against the run.
This formula seems to weigh heavily on fumbles and touchdowns, which is not a bad thing.
Though he had over 1,400 yards rushing, Bucs running back Doug Martin was not among the very best rushers in this ratings system. He was, instead, No. 5. While his lone fumble helped him, there were others who had more touchdowns than Martin, which seems to be why he was ranked No. 5.
Despite having one of the top runners in the NFL, the Bucs, when using the same formula to grade out team rushing, did not fare so well. This may be because the Bucs, outside of Martin, had virtually no running game.
In the team rankings, the Bucs are No. 9.
Now it starts to get a bit more interesting. The Bucs had the NFL's best rush defense in yards allowed. But Crippen's math came out with a far different result, ranking the Bucs rush defense No. 20. It seems the main reason for this is the Bucs tied for last in the NFL in forcing opposing running backs to fumble, just three times. In addition, the Bucs allowed 13 rushing touchdowns in 2012, a pretty high number, though nowhere near Buffalo's 23 rushing touchdowns allowed.
What this means to Joe is that Bucs coach Greg Schiano is surely working on ways to tighten up the Bucs defense in the red zone and maybe work on creating turnovers, an area in which the old Bucs defense was so gifted.