Ronde Barber = "Liability"
February 16th, 2013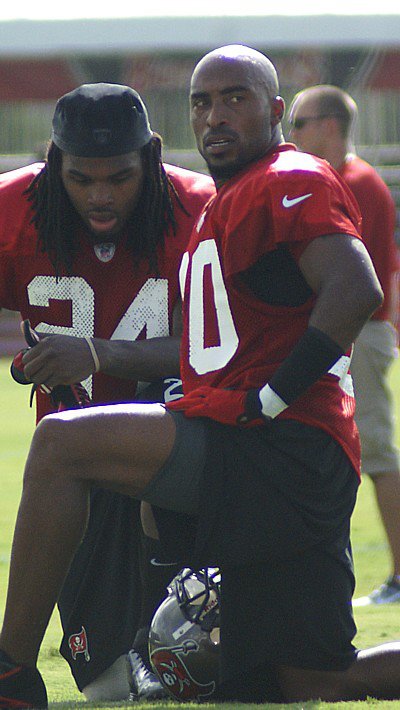 Joe realizes he's typing heresy in the church of the Bucs here. But don't skewer Joe, it's a controversial take from Joe's pal Justin "The Commish" Pawlowski of 98.7 FM.
The Commish penned a piece looking at the Bucs' needs and options entering free agency, and he s confident Ronde Barber is a weak link in the Bucs secondary. The hefty praise rockstar general manager Mark Dominik and Greg Schiano have dropped on Barber's 2012 performance? The Commish ain't buying it.
Bottom Line: This is pretty simple, Ronde Barber is old, about to retire, and was a liability last season. I also do not feel Ahmad Black is ready for a full-time role. I'd love to get a veteran with experience back in the secondary to help Mark Barron, but also an experienced player that can still play at a high level. Dashon Goldson would be my top target with his experience on a top defense like the 49ers. Patrick Chung would bring his experience from the Patriots and be a nice upgrade. Kenny Phillips has some injury concerns, but does have a tie to the Giants that might help him or hurt him with current Bucs coaches. No, I do not think Ed Reed would come to the Bucs, nor do I think the Bucs will go after him.

Top Free Agents: Dashon Goldson (SF), Jairus Byrd (BUF), Ed Reed (BAL), LaRon Landry (NYJ), Louis Delmas (DET), Patrick Chung (NE), William Moore (ATL), Kenny Phillips (NYJ)
Joe has to disagree. Barber isn't a liability, though Joe doesn't think Barber is much more than average on the field while performing a key leadership role on and off it.
Now Joe wouldn't quibble if the Bucs brought in a better free safety and moved Barber back to cornerback to compete there and play on passing downs.
Ed Reed interests Joe on many levels. Schiano was Reed's defensive coordinator at the University of Miami under Butch Davis, who still happens to be in the Bucs' house. Perhaps the relationship there is strong enough to intrigue Reed.