Peter Schrager Talks To Joe
February 14th, 2013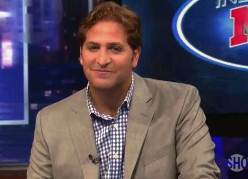 Simply put, FoxSports.com senior NFL columnist Peter Schrager is a friend of Joe. He's also a regular Sunday evenings on the "Fox News Weekend Report" with Harris Faulkner, and he hosts "Inside the NFL" on Showtime. Schrager has written very nice things about Joe on Twitter in the past, and Joe finally got to meet Schrager this month at Super Media Day where he and Joe talked all things Bucs.

JoeBucsFan: So, your impressions of Greg Schiano's first season with the Bucs?
Peter Schrager: It felt good; I thought he was doing a good job and then they had that losing streak. That killed them but for a while, they were a team no one wanted to face. They were a scary team. Then they play Atlanta at home and lose and that was the game. That was it. That was the turning point.
Joe: Do you think, in a way, Mark Dominik is a trend-setter? Last year he nearly hired Chip Kelly and then got Schiano, another college coach, to sign on the dotted line. This offseason, it seemed going after college coaches was all the rage in the NFL. Prior to the Bucs hiring Schiano, it seemed hiring a college coach as a head coach was a taboo in the NFL.
Schrager: Yeah, when Dominik went after Chip Kelly, everyone was rolling their eyes, "Why are you going after Chip Kelly?" Now look. A year later, everyone wanted Chip Kelly. Mark Dominik is a good GM and he knows what he is doing. From [talking] to other people around the league, the Bucs kind of do their own thing. A lot of these GMs are all buddy-buddy but the Bucs do their own thing, they are kind of out there on their own island. And I think they are on their right path.
Joe: Gerald McCoy, first year he was healthy and he obviously showed the talent he possesses.
Schrager: Oh, yeah. Gerald McCoy is talented and you can make the argument he is better than Ndamukong Suh. Everyone, when they came out of school, said those are the two guys. And you can throw Geno Atkins of Cincinnati in there as your three tackles from that same draft class that are off to fantastic careers. McCoy, a Pro Bowl this year, a fantastic season. Again, that's a credit to Dominik, a credit to the front office. A lot of people might say you don't take a defensive tackle that high or that Brian Price in the second round was unnecessary. But [Dominik] was trying to beef up the interior line, and look, one is a star.
Joe: With Josh Freeman, it is kind of maddening from a Bucs perspective that at times, he looks like John Elway and other times, he looks like Todd Marinovich. If the Bucs could get more of the Elway-Freeman than the Marinovich-Freeman, it would sure help. Now Adam Schein took a lot of heat this past season when he said he trusted Christian Ponder more than Josh Freeman, and he turned out right because down the stretch, Ponder played his best and got the Vikings into the playoffs whereas Freeman, with a playoff berth in sight, vanished, he didn't come through.
Schrager: I don't know that Freeman hasn't come through. There have been a lot of close losses with the Bucs in recent years. Obviously, last year was a wash but two years ago they were 10-6 and lost a heartbreaker at Atlanta. You could question the play calls at the end and going for it on the goal line and what have you. This year I think Freeman played fairly well and 12 weeks through the season, he was an All Pro, he was in the conversation. But things didn't go well overall. I think there is enough – is he in the Top 10 group? I wouldn't put him in that. But in the same breath, I would put him in the same group as a [Matthew] Stafford or a [Sam] Bradford.
Joe: Weren't you big on Lavonte David prior to last year's draft?
Schrager: Yeah, I was.
Joe: Well, you proved prophetic.
Schrager: Yeah, right, look at where I was with Russell Wilson. I didn't think he would have an NFL career. But Lavonte David in college was so short and so small; he didn't look like an NFL linebacker. But he was quick and he goes sideline to sideline. He is a fantastic linebacker. He may not be Derrick Brooks, but he's pretty close.