More Bagging On Blount
February 14th, 2013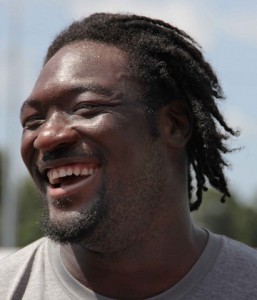 It's amazing how the three wildly overworked game-film geeks at ProFootballFocus.com manage to keep tabs on the character of NFL players. These guys must have 5-Hour Energy IVs — or they occasionally pull things out of thin air.
One of the three film junkies and stat geeks at PFF, Khaled Elsayed, ranked free agent running backs and claimed LeGarrette Blount (a restricted free agent) has "major character questions to overcome."
8. LeGarrette Blount

2012 Grade: -3.2 2012 Snaps: 93

Summary: What to make of Blount. In his rookie season he was a revelation. Finishing the year top of the charts with an Elusive Rating of 89.2 after breaking 50 tackles and averaging 3.7 yards per carry … after contact.

Since then it's all gone wrong. His struggles in the passing game mean the Bucs have been loathe to trust him, to the point that he was given only 41 carries on his 93 snaps in 2012. Still, the big back may benefit from a change of scenery which may doubly act as a kick of the backside. He's got some major character question marks to overcome, and he's entering a now or never stage of his career. He need only run like he did as a rookie and all of a sudden he's one of the best in the league at turning nothing into something.
Hmmm, so after getting more fit before the 2012 season, earning a role within the New Schiano Order, and no off-field trouble (or fumbles) in 2012, Blount is accused of "major character question marks" that need to be "overcome?"
Joe finds this to be BS. Blount's a valuable backup on a team with a superstar running back and a head coach that prefers a singular workhorse/bell cow back.
The rest of the character talk about Blount and his alleged passing-game issues are nothing more than silliness.
Joe expects the Bucs to make the small investment it will take to tender Blount as a restricted free agent, which would guarantee his 2013 return. You don't just toss away a talented back capable of carrying the load, especially when you're expecting your offensive line to be the NFL's best.