Pass Defense Woes Puzzle Mason Foster
February 28th, 2013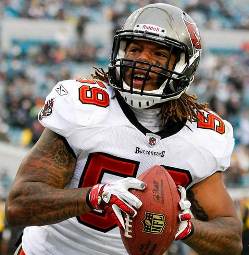 This morning, Bucs middle linebacker Mason Foster, who Joe believed was on his way to chomping pineapple for much of the season, stopped by to chat with Justin Pawlowski and Gary Shelton, co-hosts of the "Gary and The Commish Show" hearly locally on WHfS-FM 98.7.
Foster said he is still scratching his head to determine why the Bucs were no less than a sieve on pass defense, yet dominant against the run.
Justin Pawlowski: Why so good against the run and struggled against the pass?

Mason Foster: I really don't know. We had a lot of good players across the board. Can't really point to one reason why the run defense was good but the pass defense wasn't that good. It's just football. There are a lot of great players in this league, a lot of great receivers in this league. It just happens. You can't point fingers at anybody, we have to go out there and compete. We are a team together. We have to improve. We have great coaches. That's what offseason is for, to get better and get more wins.

Gary Shelton: What is the advantage this year of knowing Greg Schiano when neither side really knew each other?

Foster: It was tough. Didn't know what to expect, coming into it blind. This year you know the coaches, know what they are looking for, know what to expect in the weight room, everything. I am excited coming into this next season with one year with Schiano under my belt. He is a great coach, great program, greet organization. I think we will keep progressing.
Joe can say right now what was wrong with the pass defense: The secondary was largely made up of guys off the street who received little to no coaching from their secondary coach.
The Bucs, sans E.J. Biggers, had no depth at cornerback (isn't it funny how Myron Lewis stood on the sidelines with his hands on his hips while there was a parade of guys dragged off the street who saw playing time ahead of him?) and when your two starters, the Adderall Twins, were suspended/traded, the Bucs had no safety net.
It wasn't as if the Bucs had Lester Hayes and Mel Blount at corner to begin with (Eli Manning is still completing 80-yard bombs at this moment) and after the Adderall Twins and Biggers, the talent level really fell off the cliff.
Also in the interview, Foster said flat out, "I need to get better at everything. I just turned 24 [Friday]. I need to be a student of the game." Foster plans to celebrate his birthday tomorrow by working out in the weight room.
Foster also spoke about his former teammate at the University of Washington, Desmond Trufant, one of the top cornerbacks in April's draft.
The entire interview can be found here.