Greg Schiano Wants Versatile Defenders
February 24th, 2013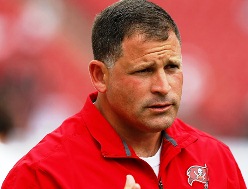 If the Bucs are going to add anyone to the front seven on defense, a likely prospect since linebacker Quincy Black is unlikely to recover from his nerve damage,  (plus the real possibility that defensive end Michael Bennett could leave via free agency), Bucs coach Greg Schiano isn't looking for a one-trick pony.
Schiano told reporters at the NFL Scouting Combine he wants guys who can adjust and adapt on the fly.
"Well, anybody who has followed our defense knows there is plenty of opportunity to do that. I still–you live by it and you die by it. You still want to get after them four [or] three men. When you are really good you have a three men rush and can get pressure on the quarterback and then be able to drop eight," Schiano said. "To be able to mix it up the one thing we live by first, second down, and especially on third down is we are going to be multiple. Move in and out. That's why we need guys that are football smart and guys that really love to prepare and get ready for the games."
Now Joe can understand why Schiano would want guys who can play in a 34 front just as easily as a 43 front. But as far as the pass rush goes, until and/or unless the Bucs can develop a consistent pass rush, Joe just wishes Schiano and defensive coordinator Bill Sheridan would forget the three-man front, especially against the likes of Drew Brees.