Dominik Could Have A Commitment From Bennett
February 24th, 2013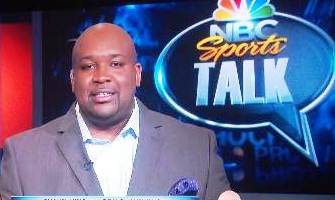 He's called the performance of the Bucs' front office "terrible," and he's routinely blasted rockstar general manager Mark Dominik for poor decision-making, but former Bucs QB Shaun King thinks Dominik likely is making a wise move in the handling of soon-to-be free agent Michael Bennett.
On Friday, Dominik announced the Bucs would not slap a franchise tag on anyone this offseason, which means the team's public stance is that they'd be willing to let Bennett walk if he can't be re-signed.
Speaking on 98.7 FM this morning to host Steve Isbitts, King said fans should expect Dominik has an agreement in place with Bennett's agent that the Bucs will get an opportunity to counter any offer that comes Bennett's way on the open market. King, one of only three quarterbacks to lead the Bucs to the NFC Championship game, said it would be a rather common move for Dominik, or any general manager, assuming teams have a good relationship with the player.
Oily Drew Rosenhaus represents Bennett.
King, however, made it clear that it only takes one big spender to drop gobs of cash on Bennett with a figure the Bucs won't match. The Buffalo Bills' rather surprising big-money signing of Mario Williams last offseason was an analogy King offered.
Joe agrees with King's assessment of the likely Dominik-Rosenhaus agreement, but it still makes Joe terribly uneasy. Losing Bennett would be a risky move, and likely a bad one.
King also blamed Dominik mismanagement for putting the Bucs in this situation. A young emerging pass rusher who made a big splash on Monday Night Football in 2011, Bennett is a guy the Bucs should have moved to re-sign long ago, King said. Extending the contract of Bennett also was something former Bucs defensive end Steve White put out there years ago. Back in 2010, White explained that Bennett could become a "monster."