Greg Schiano "Changed My Life"
February 22nd, 2013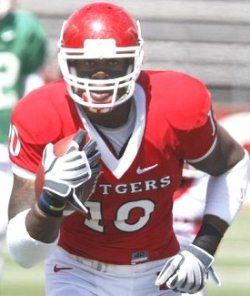 The Bucs may be in the market for a tight end. Well, there is a tight end participating in the combine and he comes by way of Rutgers.
Yeah, you do the math.
D.C. Jefferson played tight end for three years under Greg Schiano at Rutgers and he got there via a strange but somewhat familiar route. He was recruited as a quarterback from Winter Haven, one of the top quarterback recruits in the nation in fact.
Sure, Jefferson would love to come home and play for the Bucs. More importantly, he wants to be reunited with Schiano.
"That man changed my life," Jefferson told Joe at the NFL Scouting Combine yesterday.
Jefferson was flipped to tight end when he walked on the New Jersey campus and redshirted his freshman year.
Jefferson noted that Schiano was important to him, not so much for how he changed his football career possibly for the better, but how Schiano molded Jefferson away from the gridiron.
"The approach he took towards the game, puts leadership into people," Jefferson explained of Schiano's teachings. "I know he is known as a tough coach, but his teaching meant so much to me off the field, not just as a player, but as a man. Not just football, but being a good person and a good husband. He helped me make my mind right and look toward the ultimate goal.
"I would love to play for coach again."
Jefferson (6-6, 250) had a career high 20 catches in 2012. He's projected to be a late-round pick.