Bucs No. 3
February 7th, 2013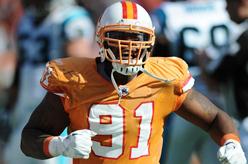 The 2012 NFL season wrapped up just a couple of days ago, so of course it is time to look ahead to 2013, something Joe has been doing for a few weeks now.
Sure, San Francisco is a favorite to contend for the Super Bowl they nearly won Sunday. But when Peter Schrager of FoxSports.com decided to put fingers to keyboard, he thought of other teams fans should watch outside of the Niners, the Dixie Chicks and a few other obvious teams.
Schrager believes the Bucs are a top sleeper fans will overlook for 2013.
3. Tampa Bay Buccaneers: The Baby Bucs showed real signs in 2012 and should be better in 2013. Quarterback Josh Freeman is entering his crucial fifth year and he has real weapons in Doug Martin, Vincent Jackson and Mike Williams. The defense is rich with young talent and should improve next year. The NFC South is loaded with good teams, but the Bucs could shake things up.
Yes, the defense should improve. The Bucs, barring an unforeseen injury, should be healthy up front for the first time in years. It is the secondary that needs a major upgrade and there is nothing to suggest Bucs rock star general manager Mark Dominik will not address that.
In Joe's eyes, the Bucs' playoff chances come down to two areas: Josh Freeman's consistency and significant improvement in the secondary.