Bowers Collaring Will "Impact" Bucs' Plans
February 21st, 2013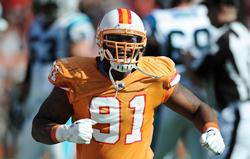 Joe went on record early this week saying he believed that the pinching of Da'Quan Bowers at LaGuardia Airport for packing heat would not impact the Bucs because at best, Bowers wouldn't go to trial until after the 2013 season.
Apparently, Joe is wrong, so says Bucs coach Greg Schiano.
While talking to Woody Cummings of the Tampa Tribune, during his car wash with the over 8,000 accredited media members at Lucas Oil Stadium in Indianapolis for the NFL ScoutingCombine, Schiano said, yes, Bowers' arrest has thrown the Bucs a curveball in preparation for the draft and free agency this winter and spring.
@RCummingsTBO: Added Schiano on Bowers: "I think you'd be naive to think it doesn't have any impact" on teams plans.
Does this mean free agent Michael Bennett wins the lottery and is franchised (and will then receive some $11 million dollars this season)? Or does it mean the Bucs will draft a defensive end in the first round? Joe isn't sure.
But it sure bears monitoring.