Will Schiano Call His Own Defense?
January 2nd, 2013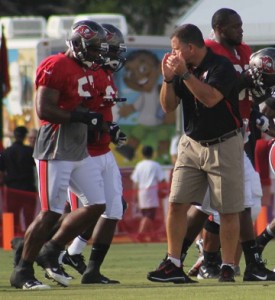 Watching Greg Schiano go wild on the sidelines coaching up Anthony Gaitor and the secondary after Gaitor blew his assignment allowing the Falcons' final touchdown Sunday, and knowing that Schiano was the defensive signalcaller/head coach at Rutgers for a chunk of his college tenure, Joe's wondering whether Schiano's postseason evaluation of all things Bucs will lead to him taking over the defense.
The Bucs defense was much improved in the final two games, and Schiano appeared much more hands-on. The chewing out of Gaitor sure looked like a head coach who was burned out on delegating.
Also, defensive coordinator Bill Sheridan made it very clear at his introductory news conference that he was running Greg Schiano's defense, not Sheridan's.
Joe's merely speculating here, but after a year to establish a team culture and systems and everything involved with running the Bucs, Joe wouldn't be surprised if control-loving Schiano sees it as a wise move for him to take over defensive playcalling.
That doesn't necessarily mean firing Sheridan, just controlling gameday calls. Again, Schiano did it at Rutgers, and he told media earlier this season that he missed aspects of playcalling.