Clark Decision Possibly Tied To Ronde Barber
January 2nd, 2013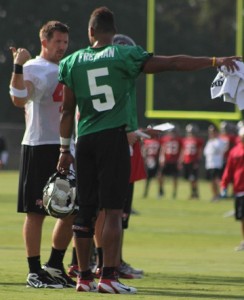 Former Bucs tight end Anthony Becht, an analyst on the Buccaneers Radio Network, gave a lukewarm endorsement to Dallas Clark this morning on WDAE-AM 620.
It was difficult to assess whether Clark wasn't being called upon within the Bucs offense or was having trouble getting open because of age-related decline, Becht said.
Becht said Clark is still valuable but the Bucs could be looking for a more dynamic option. Becht praised Luke Stocker's development as a blocker but didn't talk about him as a receiver.
Interestingly, Becht floated the take that losing Clark and Ronde Barber this offseason would be devastating to the Bucs' leadership and locker room. So Joe has to wonder whether rockstar general manager Mark Dominik will wait to decide on Clark until Barber gives a thumbs-up or thumbs-down on his 17th season. Of course, there's also that matter of Clark's desire to stay.
Joe can say that numerous Bucs on both sides of the ball have spoken of Clark's leadership. Why even pill-popping, spa-loving Eric Wright specifically Twittered on Monday about how Dallas Clark counseled him.
Joe wouldn't mind seeing the Bucs chase free agent tight end Martellus Bennett, Michael's brother, but it's really too early to speculate much. The Bucs first have to make sure they know who their offensive coordinator is going to be.