Greg Schiano Is Not Ray Perkins
January 5th, 2013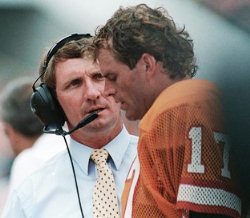 The culture has changed at One Buc Palace the past 11 months or so, but even Bucs coach Greg Schiano admits it's not a finished product.
Kellen Winslow didn't want to tow the line. Some players wanted a buddy for a coach, not someone who is intolerant of sloppy play, turnovers and overall lousy attitudes.
This, however, doesn't mean Schiano is a tyrant. That's what Pat Yasinskas of ESPN tries to explain in an NFC South chat.
Kevin (Tallahasseee): Greg Schiano seems to be a reincarnation of Ray Perkins…Perkins was also known to run his teams ragged and the teams fade throughout the season.

PY: Yeah, but it's not quite the same. Perkins was doing three-a-day practices in training camp. The new rules don't allow Schiano to do anything close to that.
This is over the top and trying to compare apples and oranges. Perkins was a glorified drill sargent and wannabe Bear Bryant. He worked his players to death, sort of put them through a Junction Boys-type training camp each summer, a stunt that even Bryant admitted was a massive mistake when he was coaching Texas A&M.
As Yasinskas points out, the Bucs, like every other NFL team, are limited to what they can do. Only X-amount of practices in the regular season can be in pads and there is a ceiling to how long practices can be.
If the Bucs were wiped out from practices under Schiano, that tells Joe practices under the previous regime were little more than recess sessions.