Are The Bucs Serious About Landry Jones?
January 4th, 2013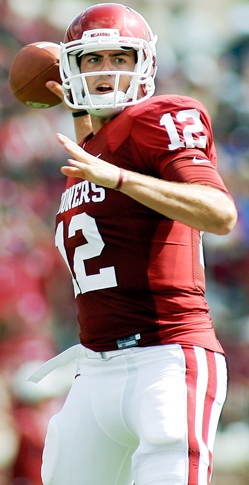 So early this week, Bucs coach Greg Schiano made no bones about how the Bucs want to give embattled quarterback Josh Freeman competition. Schiano was less than forthcoming how the Bucs would acquire said quarterback.
Joe knows the Bucs really do want competition for Freeman, and if that means drafting a guy in the middle rounds of the draft, so be it.
That's why a little nugget on Twitter from Woody Cummings of the Tampa Tribune was so interesting when he typed that Bucs fans should watch and become familiar with Oklahoma quarterback Landry Jones in tonight's Cotton Bowl because the Bucs are kicking the tires on possibly drafting the four-year Sooners starter.
Joe doesn't know what to make of this. Jones, once thought to be a high draft pick, has seen his stock steadily decline the past two seasons.
Joe does know that Bucs rock star general manager Mark Dominik greatly respects the opinion of Sooners coach Bob Stoops. After all, it was largely based on Stoops' high recommendation that Dominik drafted defensive tackle Gerald McCoy.
Also, Dominik is fond of Big XII and Big Ten players, having used high draft picks on players from those conferences in Freeman, GMC, Adrian Clayborn, Roy Miller and Lavonte David.
Joe has no clue if the Bucs really would draft Jones in a middle round. But it doesn't surprise Joe that Dominik might be watching Jones with a sharp eye.