Don't Write Off Martellus Bennett
January 22nd, 2013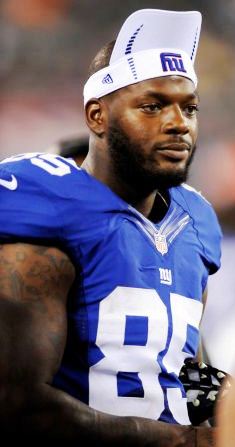 Joe's heard the Internet chatter claiming free agent tight end Martellus Bennett, a beast of a blocking and receiving talent, won't want to come to Tampa Bay now that the Bucs have hired John Garrett as quarterbacks coach. Garrett was Bennett's tight ends coach for four underwhelming seasons in Dallas, before Bennett's breakout season with the Giants in 2012.
Well, it seems this is a baloney take, to use one of Greg Schiano's favorite words.
Speaking on 98.7 FM last night, longtime Cowboys beat writer Charean Williams said Bennett and Garrett were close on and off the field and the presence of Garrett on the Bucs, in fact, would be a potential attraction for Bennett.
And Williams took that a step further saying she personally knows Martellus Bennett, and his family and brother, Bucs soon-to-be free-agent brother Michael Bennett, and the two definitely want to play together in the NFL.
Do the Bucs re-sign aging, locker room leader Dallas Clark? Or do they look to make a splash with a guy like Martellus Bennett?
Joe thinks the Bucs' biggest interest in Bennett might come for his reputation of being a punishing blocker, a label Giants GM Jerry Reese slapped on him. And that 6-6, 265-pound body, with 54 catches last year and familiarity with the Bucs' style of offense, qualifies as a weapon upgrade for Josh Freeman.
Bennett also fits the rockstar general manager Mark Dominik preferred free agent mold. He's a five-year veteran but still only 25 years old.