Bucs Won't Draft Defensive-Back Heavy
January 26th, 2013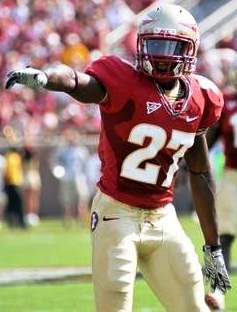 Joe remembers the San Francisco 49ers, in the early Bill Walsh days, were in a similar position as the Bucs, where there was such a void in the secondary, Walsh drafted four defensive backs in the Niners' first five picks.
Three of those rookies (Ronnie Lott, the good Eric Wright and Carlton Williamson) started right away and helped the Niners win their first Super Bowl.
But it is rare that loading up so early on one position works. Based on that information, the Custodian of Canton, eye-RAH! Kaufman of the Tampa Tribune, cautions Bucs fans not to expect Bucs rock star general manager Mark Dominik to pull a similar stunt.
Q: Do you think with the extra fourth-round pick that Tampa rolls the dice and picks up three cornerbacks in the first three rounds? One of them could also play safety in case Ronde Barber retires!

— George Hicks, Alba, Texas

A: I can't see the Bucs using their first three draft picks on defensive backs. That strategy rarely works and the Bucs have other pressing needs like tight end, right tackle and along the defensive line. There's no question the secondary needs a significant upgrade, but focusing exclusively on cornerback in the premium rounds of the draft is risky business. The Bucs will know whether Ronde Barber is returning before they start the draft, and you are correct in suggesting that decision will play a role in their overall strategy.

— eye-RAH! Kaufman
eye-RAH! is correct. The Bucs, though in need of corners, aren't going to go nuts using half their picks on cornerbacks. That just isn't going to happen.
If the Bucs trade down and land, say, Xavier Rhodes out of Florida State, that doesn't mean the Bucs are going to go on a run of defensive backs.
Joe can see Dominik drafting two corners, no more.