Season Over For Myron Lewis
December 10th, 2012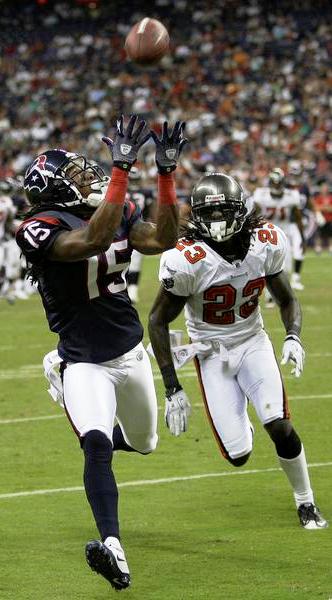 Joe finds it a bit amusing that Bucs fans always, always have to have a player to hate. Each year, this player (or coach) changes.
Two years ago it was, understandably, Sabby the Goat. Last year it was Bucs defensive tackle Gerald McCoy (when people grew hoarse from screaming for Raheem Morris' head on a platter). This year, despite maybe playing a half-dozen (if that) plays on defense, without question the most loathed Bucs player by fans was Myron Lewis.
Joe uses the past tense "was" because the beleagured Bucs cornerback has been placed on the injured reserve list and his season is over, per the Bucs official Twitter feed.
@TBBuccaneers: Bucs CB Myron Lewis has been placed on injured reserve due to a hamstring injury suffered in Sunday's game against Philly.
Rarely a day goes by where Bucs fans — in a thread about a completely different subject — cry out loud, "Why is Myron Lewis on the roster?"
It's a good question, but Joe wasn't concerned because Lewis rarely (thankfully) played defense. The third-round pick in 2010 never adjusted to the NFL. When he's healthy — a rare feat for the Vanderbilt product — Lewis always looked completely lost on defense, often spinning around like the Tasmanian Devil in some weird effort to get into position, looking like a youngster in a frantic Easter egg hunt.
It never worked.
Joe has nothing against Lewis, who seems like a good guy. But to date, Lewis has been completely overwhelmed trying to perform at the NFL level.
Lewis has one more year left on his four-year contract.