Schiano Won't Comment On Sullivan Sniffing
December 2nd, 2012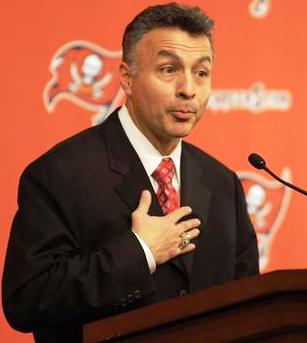 As Joe expected, the leader of the New Schiano Order was tight-lipped and non-committal when asked this evening about the ESPN report that has Mike Sullivan expressing interest in the Boston College head coaching job.
Here's what Greg Schiano had to say when asked about the validity of the report:
"You know that kind of stuff I keep private with my assistant coaches and with our organization, and if there's anything to that it will come out the appropriate way," Schiano said. "I don't think this is the place to talk about that."
Joe sure would have preferred a denial from Schiano.
It would be potentially devastating for Josh Freeman and the Bucs offense to lose Sullivan. Not that Sullivan is living legend, but Freeman doesn't need the upset of learning another offense and adjusting to another coordinator.
By next season, the Bucs should be humming as an elite offense, not starting fresh.