Schiano Reacts To Adam Hayward-Bryan Cox Spat
December 16th, 2012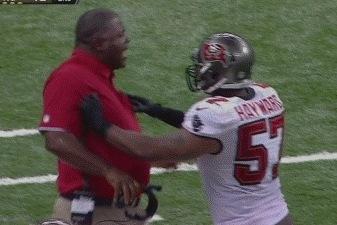 Fans saw the ugly, embarrassing sight of linebacker Adam Hayward restrained on the Bucs sideline after getting into a heated, finger-pointing, pushy, arm-waving spat with Bucs' front-7 defensive coach Bryan Cox today in New Orleans.
Hayward stayed in the game, but this was not a typical coach-player disagreement. Here's the video.
Greg Schiano acknowledged the faceoff and closed the incident to media after the game.
"I'm not happy about it, but I do know that it's been resolved. I think you chalk it up to heat of the moment. Guys are very passionate. Adam is a passionate player. Coach Cox is a passionate coach. I know they're very close. And they're, I think, more of a family spat in a frustrating time than, you know, anything that I'm deeply concerned about," Schiano said. "I know they've already smoothed that over. But again, it's not what a football team that I'm the head coach of I want to see. So certainly it's been addressed, and it will be addressed and we'll move forward from it. But it need not happen again." 
Joe gets the passion, but Latrell Spreewell  Hayward is a Bucs leader and a true veteran. You can't have guys in that role going after coaches under any circumstances. It's beyond unacceptable.