Old McDonald Has A Job
December 11th, 2012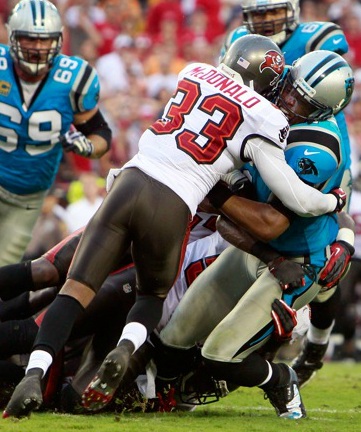 One of the most bizarre roster moves made by the Bucs this season was the release of Brandon McDonald six weeks ago. McDonald was a veteran cornerback, the opening day nickel cornerback, and he at least had good flashes and an interception during his eight games with the Bucs.
Two weeks weeks before McDonald was cut, even the leader of the New Schiano Order raved about him.
"I'm impressed," Greg Schiano said of McDonald. "His work ethic, his attention to detail. This guy's a pro."
Well, for some reason Schiano and rockstar general manager Mark Dominik thought Myron Lewis was a better player and sent McDonald packing. But now McDonald has replaced Lewis, who is on injured reserve. The Bucs announced the re-signing of McDonald tonight.
As atrocious as the Bucs secondary has been, Joe's almost excited by this move.