Josh Freeman Is Here To Stay
December 12th, 2012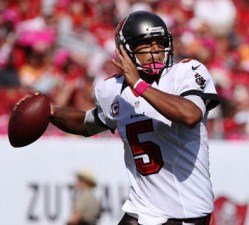 Joe remembers just a couple of months ago how a number of loud Bucs fans were so fed up with the struggles of Josh Freeman, they begged for Bucs rock star general manager Mark Dominik to draft West Virginia quarterback Geno Smith next April.
While Joe thought those wishes were outrageous, since, Freeman's recent freefall has sort of opened Joe's eyes to why that group of fans wanted so badly to turn the page.
Given Freeman's struggles, Joe already wrote this will just give Dominik more leverage when/if he extends Freeman's contract, which is set to expire after the 2013 season. Joe fully expects that to happen.
It seems eye-RAH! Kaufman of the Tampa Tribune is of the same mind. Appearing on the "Booger and Rich Show" on WHFS-FM 98.7 Tuesday, co-hosted by former Bucs defensive tackle Booger McFarland and Rich Herrera, Kaufman confessed that Freeman was so terrible Sunday, it was the first time Kaufman wondered if Freeman will ever be the franchise quarterback the Bucs boast about.
But Kaufman said Freeman isn't going anywhere and the Bucs are just going to have to learn to deal with Freeman's moderate peaks and deep valleys.
"Freeman was so inaccurate — I have been a big, big Freeman supporter. I said if he doesn't come out big by 2010, I don't know anything about football. So I am not going to be a hypocrite. That is the first time, even with all his problems last year, that he was so bad in Sunday's first half, that I looked around and said, 'What is going on with Josh Freeman?' And don't think for a second that Mike Sullivan and Greg Schiano weren't thinking the same thing.

"You can't go back to the drawing board. Half the teams in this league wish they had Josh Freeman, and that is a fact. You look at teams like the Cardinals — I mean that is a disaster. The Jets, they have absolutely nothing. Look, Freeman had a bad game. Won't be the first one, won't be the last one. This kid is going to play. He is not going to be a 68 percent passer. This is not Drew Brees we are talking about. But the kid throws a very good deep ball. He is much respected in the room. He wants to be a leader. He's bright and I think we have found a new maturity in him. He wants to be outstanding. Unless I am mistaken, you are not going to go out and get someone with the 20th pick in the draft, I am sorry and if there is someone out there in free agency, someone is going to beat you to it. There is not going to be anybody better than Freeman. I'm not breaking the bank on Freeman but I'm not willing to say [the Bucs] made a mistake in 2009. The repercussion of that sets you back another five years."
As Joe asked Sunday, is Freeman the long-term answer for the Bucs? After the past three weeks, surrounded by all his flashing toys but failing, Joe must answer that he doesn't know.
But as Kaufman pointed out, just look around at other teams' quarterbacks. Arizona, San Diego, Jacksonville, Kansas City and the Jets likely would kill to have Freeman. Perhaps even Carolina, Minnesota, Dallas, Oakland and even Houston (yes, Houston) — to name just a handful–might prefer Freeman as their starting signal-caller.
Freeman has every tangible one could ever want in a quarterback. That is not the issue.
Unless Freeman walks after next year — highly unlikely — Freeman will be your starting Bucs quarterback for the foreseeable future.
Dicey accuracy and skittish throws under pressure included.