Kiffin-Schiano A Bad Match
December 21st, 2012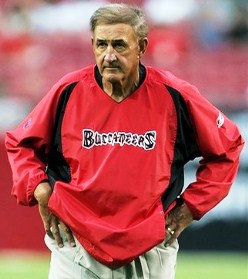 Rumors of Bucs covert defensive advisor Butch Davis being considered for college head coaching jobs, combined with Bucs icon Monte Kiffin leaving the University of Southern California to return to the NFL, had many speculating whether Kiffin might join the New Schiano Order.
Greg Schiano himself has talked openly about how he's admired and studied Kiffin's defenses and coaching style for years. Plus Kiffin still resides in the Bay area.
But Derrick Brooks says a Schiano-Kiffin marriage is unlikely to be a good match, so Brooks said on WDAE-AM 620 on Wednesday.
"I don't know about bringing Kif here back to Tampa. You know, I just see that's a probably difficult fit because the style of defense and some of the personality of, you know, Coach Schiano what he wants to get done from a pressure standpoint," Brooks said. "He's more of a pressure guy. Kif is more vanilla, 'Line up. Do your job. Know what you're doing.' Kind of do what you do and make people beat you because they outexecuted you versus what they got now. I like the thought, but I think it would be kind of difficult in my opinion."
Brooks went on to say he thought Kiffin might, in fact, be seeking a consultant role versus a defensive coordinator position.
Joe will say this, if the Bucs don't seriously improve their secondary in the offseason, then the team could use every last  defensive mastermind it can find to right the mess.