Jeff Fisher To Bucs Fans: Lay Off Josh Freeman
December 19th, 2012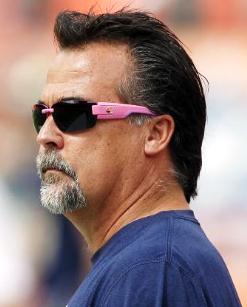 Joe cannot sugarcoat it. When the Bucs needed quarterback Josh Freeman the most, when the team was on the cusp of a postseason run, Freeman not only didn't show up in three of the last four games, he has regressed each week the past month.
As a result, a great many Bucs fans have turned on Freeman, wanting Bucs rock star general manager Mark Dominik to begin shopping for a new quarterback yesterday.
This morning during a conference call with the Tampa Bay pen and mic club, Rams coach Jeff Fisher, learning Bucs fans impatience with Freeman, reacted with frustration and suggested Bucs fans need to chill out.
"Oh, of course," Fisher harrumphed, when asked if Bucs fans were out of line in turning on Freeman. "He has all the tools. It is not easy to play the position week in and week out. You face some defenses you are not used to seeing. He is a very talented athlete and quarterback and makes good decisions. There is no need for frustration. There should be nothing but optimism with Josh. He has a tremendous future."
It is interesting to Joe how the NFL establishment has rallied to Freeman's defense in light of his downward spiral the past four weeks. Wide receiver Mike Williams was almost angry if not disgusted by fans' reaction to Freeman on Buccaneer Total Access Monday evening ,and Joe will have another intersting nugget from Williams later.