Veterans Day Always Special For Military Mike
November 9th, 2012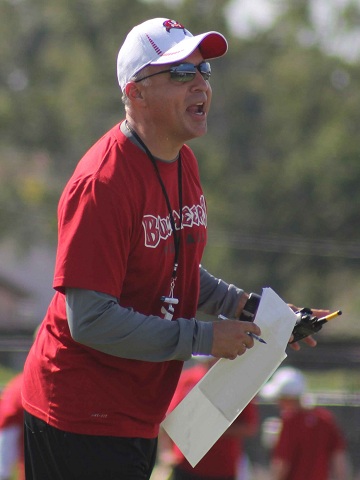 Joe just wants to call attention to a cool ESPN.com feature on Bucs offensive coordinator Mike Sullivan that posted today.
NFC South Blogger Pat Yasinskas got to cozy up to Sullivan and chat about his days at West Point and as a young Army officer. The entire piece offers good insight into Sullivan, as the Bucs prepare to host the Chargers and numerous military appreciation happenings at the game Sunday, which is Veterans Day.
Sullivan's not sure if all the lessons he learned in the military are the reason he quickly climbed the ladder through the college ranks and on to the NFL, where he quickly is developing a reputation as one of the league's best young offensive coordinators. But Sullivan, 45, knows his background didn't hurt.

"I know that I've relied upon it heavily, and that it steers and directs how I approach things and how I try to be very disciplined and also maintain a level head when things are going crazy," Sullivan said. "I learned that early on in Ranger school, when I was running around like a chicken with its head cut off and a Ranger said, 'Hey, you're trying to do well, but you're nervous. You've got to just settle down here and keep a cool head.' When you keep a cool head, the people around you will keep a cool head."
As Joe wrote yesterday, if Sullivan's stunning success as Bucs offensive coordinator continues, his background will make him a hot head coaching candidate this offseason. And a national feature like this only adds to the potential hype.