The Development Of A Fullback
November 13th, 2012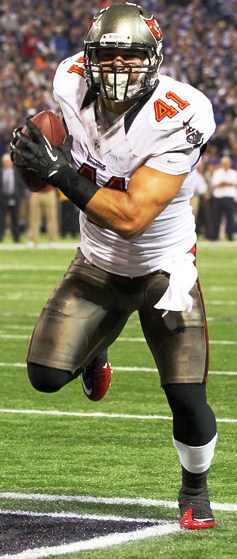 Probably not since all-around good guy and fan favorite Earnest Graham played fullback have the Bucs really had a decent, honest-to-goodness fullback.
When Joe talks about a fullback, he means one that can run for a few hard-to-get yards, a fullback who can deliver a bone-bruising block, a fullback who is also a weapon in the passing game.
The past few games have shown that yes, the Bucs indeed have a fullback. His name is Erik Lorig.
Originally drafted by Bucs rock star general manager Mark Dominik as a defensive end out of Stanford, Lorig has blossomed as one of the top fullbacks in the NFC, specifically catching the ball, so documents Buccaneers.com's Captain's Blog.
Lorig's receiving numbers – nine catches for 63 yards and a touchdown – aren't overwhelming, but they are pretty close to the best totals by any fullback in the conference. Only Carolina's Mike Tolbert has more, and Tolbert is the one player on the NFC fullback ballot who is more involved as a primary ballcarrier in his team's offense. (That, by the way, is no knock on Tolbert or his qualifications as a fullback.)
Lorig even has better passing numbers than one of the better fullbacks in football, Green Bay's John Kuhn, who Packers fans swoon over like Joe does Rachel Watson.
Think about the toys No. 5 has to play with: Vincent Jackson, Mike Williams, Dallas Clark, Doug Martin, Tiquan Underwood and now, Lorig.
No wonder Josh Freeman is racking up yards better than Joe is polishing off beers. With five talented pass-catchers on the field at any one time, good luck to opposing defenses in trying to cover all five at once.