Mike Williams The Quarterback
November 25th, 2012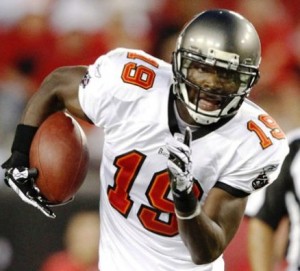 With just under six minutes left in the first half and the Bucs trailing the Dixie Chicks 10-7, Bucs offensive coordinator Mike Sullivan called one of the coolest plays Joe can remember being run by the Bucs.
Josh Freeman dropped back and threw across the field to a wide open Mike Williams. But Williams had no intention of taking two steps forward. Instead, he rared back and tossed the ball to Vincent Jackson just inside the 10-yard line.
Jackson juked one tackler but couldn't avoid a second and was dropped at the Dixie Chicks-3. As Joe pointed out earlier, the Bucs' inability to punch the ball in from the three would haunt them. Joe quickly remembered Jackson getting caught from behind at the Saints-1 a few weeks ago, and the Bucs also unable to cross the goal line then proving fatal, as well.
"The double-pass was wide open," Williams said. "It was kind of my fault [for the play not being a touchdown] because I wanted to lead him a little bit and I didn't want to overthrow him he was so wide open."
Williams refused to believe that not scoring a touchdown after that play was the turning point in the game, noting that the game was tied after the field goal.
Jackson himself noted he was so eager for the ball to get to him, it was as if the entire play unfolded in slow motion.
"Yup, yup, it took some time but that was a play where we got the defense that we wanted," Jackson said. "It was a good play to get us downfield and get us in scoring position."
Williams refused to believe not scoring a touchdown at that point would doom the Bucs later.
"I don't know what the turning point in the game was," Williams said.