Greg Schiano "Coach Of The Year?"
November 21st, 2012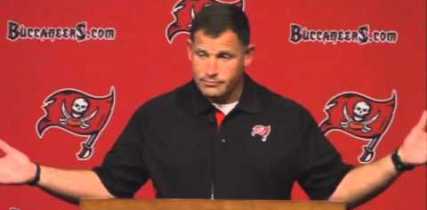 It's hard to believe tomorrow is Thanksgiving. How time has flown. It's still harder to believe what Greg Schiano and the Bucs are doing.
This time last year, the Bucs were ready to beg for the season to end, almost like it pained to see an old relative suffer in their final days. The offense was often impotent. The defense was like a slap in the face to any sober fan it was so insulting. Calling the team a "trainwreck" didn't aptly describe how bad things were.
Now, as Thanksgiving arrives in 2012, the Bucs are honestly in a playoff race. Kerry J. Byrne, the founder of the crazy yet informative "Cold Hard Football Facts", while writing for SI.com, is so impressed with Schiano that Byrne believes Schiano is the NFL "Coach of the Year."
Byrne breaks down the numbers from last year to this year to demonstrate how head and shoulders above his predecessor Schiano truly is.
Schiano's greatest work has been on the defensive side of the ball.

The 2011 Buccaneers surrendered 494 points, shattering the previous franchise record for ineptitude set by the 2-14 Bucs of 1986 (473).

And they posted the worst Defensive Passer Rating in franchise history (97.21). For a little perspective, the Super Bowl champion 2002 Bucs posted a Defensive Passer Rating of less than half that number (48.4).
Bryne digs real deep to show Schiano has improved the Bucs and it is well-worth a few minutes of your day to read the entire column.
If somehow Schiano can wade this team through a dicey last six weeks of the schedule, with the NFL's worst pass defense, to a postseason bid, it will be one of the NFL's best coaching jobs in recent memory in Joe's eyes.