Doug Martin Among Heady Company
November 8th, 2012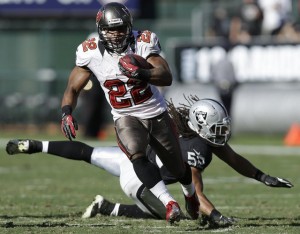 Watching Doug Martin go all Gayle Sayers on the Raiders last Sunday was really something to be behold.
Joe cannot ever remember watching a running back destroy an NFL defense like that since O.J. Simpson as a kid during his history-setting 1973 season.
(Yes, Joe witnessed from the second row Ottis Anderson nearly hit 200 yards in his NFL debut against Dallass, but this wasn't even close to what Martin did in Oakland last week.)
Someone who goes by the perfect moniker of "FantasyDouche" decided to put Martin's performance this season into NFL historical context.
Let's just say Martin is walking among impressive fellow running backs.
Although it is a very small sample size (there's a real, geeky, calculator crowd phrase for you), said "FantasyDouche" claims Martin's numbers compare with the following running backs, all studs: Arian Foster, LaDainian Tomlinson, Edgerrin James, Ricky Williams, Adrian Peterson, Chris Johnson, Clinton Portis, Larry Johnson and Deuce McAllister.
In short, Martin's yards per carry are ahead of all of the aforementioned sans Chris Johnson, Portis, Larry Johnson and McAllister.
It's really neat if not chilling to look at those stats and see the names and numbers compared to Martin's.