Da'Quan Bowers Came To Play
November 25th, 2012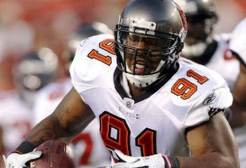 It seems each week, Bucs defensive end Da'Quan Bowers is getting better and better. Slowed by an Achilles injury prior to the season, Bowers is becoming a force on the Bucs front line.
Today, he showed his skills by getting pressure on Matty Ice, not just once, but also hurrying the Atlanta quarterback into throwing an interception made by Ronde Barber.
Still, despite his improved play both on the pass and the run, Bowers was upset over the one-point loss.
"We didn't do what we needed to do," Bowers said. "I think we did a decent job against the run. They just made a few more plays than we needed to get them off the field. We had breakdowns in our defense but we we will go back to the drawing board, figure out what we did wrong, fix it and we will see them again in five weeks."
The one thing Bowers certainly was doing right was getting heat on Matty Ice in the second half. He clearly was the man behind Barber's pick.
"Each man has to do his job to help this defense," Bowers said. "I was doing what i could. I was trying to get pressure on Ryan, hoping he would just throw it up. Ronde did a good job in getting the pick.
"We should have made a few more plays like that and we would have been victorious."