Bucs Offense Blazing New Trails
November 10th, 2012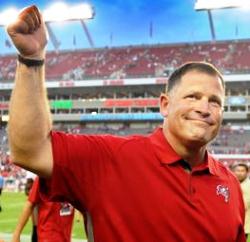 It was a feel-good morning earlier this week when eye-RAH! Kaufman of The Tampa Tribune dropped by to speak with Chris Dingman and Kirk McEwen, co-hosts of the WHFS-FM 98.7 morning show. Kaufman sounded like a Bucs cheerleader.
All thumbs were pointed upwards in Kaufman's eyes as the Pewter Pirates head into their game with San Diego tomorrow.
Kaufman noted how the Bucs have changed. Just 10 years ago, the Bucs had one of the most savage defenses in NFL history and rode that defense to a Super Bowl win.
Now, as Kaufman pointed out, the Bucs have the most dangerous offense in the NFL.
"They are in line to shatter all of the offensive team records, all of them. This is easily the best offense this town has seen in 35 years. Everything has changed around now. They are averaging  28 points a game — for the season — and that is after a sluggish start. Everybody deserves credit.

"This team in this NFC playoff picture, let's be honest. It's all good for Bucs fans right now with this prolific offense."
Kaufman then went on to cite the deft drafting of Bucs rock star general manager Mark Dominik, new Bucs coach Greg Schiano for his New Schiano Order, offensive coordinator Mike Sullivan for crafting this offense yet never calling a play in the NFL prior to this season, and to offensive line coach Bob Bostad wizardry in keeping a unit together despite it having just one starter left in place from the start of preseason (remember, Jeremy Zuttah has moved to left guard).
Joe happens to believe Kaufman is on the mark. It's hard to believe this is virtually the same organization that stunk worse than an uncleaned Porta-Potty baking in a Florida summer.
Even if the Bucs don't make the playoffs — those losses to the Giants and Saints are killers — it's remarkable the headway this franchise has made in half a season.