Bucs Get Younger At Corner, Cut McDonald
November 6th, 2012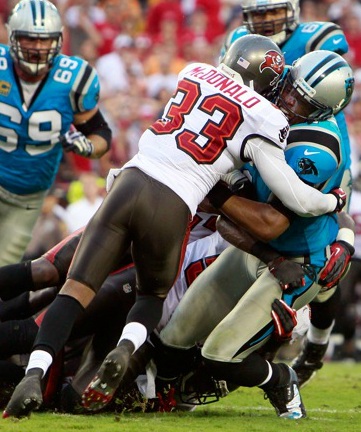 Your 2012 opening day nickel cornerback, veteran Brandon McDonald, who did some good things with the Bucs and drew love from Greg Schiano a few weeks ago, is now a former Buccaneer.
This is how Schiano described McDonald only a few weeks ago: "I'm impressed," Schiano said. "His work ethic, his attention to detail. This guy's a pro."
Well, now McDonald will have to be a "pro" somewhere else.
The Bucs have promoted second-year cornerback LeQuan Lewis from the practice squad. Lewis has played in four games as a reserve over the past two seasons since joining the Titans as an undrafted rookie in 2011.
He has one career tackle.
This move sure is curious given the thin Bucs secondary and possible looming suspension of Eric Wright. Hopefully, the Bucs see something special in Lewis. Remeber, that's LeQuan Lewis, not Myron Lewis.