Another One In The Plus Column For Sullivan
November 18th, 2012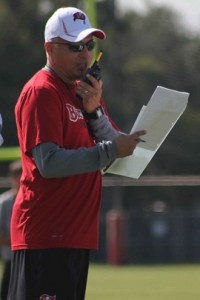 Joe did have issues today with the Bucs' conservative playcalling at times and the Bucs' continued obsession with using D.J. Ware so much on third down.
(Last Joe checked Doug Martin was heralded by Bucs brass before and after the draft as "a versatile, three-down back.")
But that written, today's game definitely was yet another big positive for offensive coordinator Mike Sullivan. You can't hang Josh Freeman's ugly interceptions and Doug Martin's costly goal-line cough-up on Sullivan. And "Sully," as he's called, had his offense and playcalling raring and ready to open the game, ready when the game was on the line, and ready for the kill in overtime.
The man knows how to make adjustments, and clearly the Bucs are very well prepared on offense.
As Joe's written previously, Joe's not sure how Sullivan won't be in consideration for a head coaching gig after this season, assuming the Bucs offense keeps rolling. He's got rings. He's coached under disciplinarians. He's got a military-officer background. He's molded quarterbacks. And he'll have playcalling prowess on his resume.