The Bucs' Flimsy Odds Of Winning
October 24th, 2012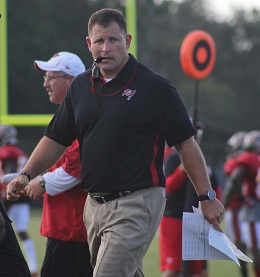 Oh, how Joe longs for Jenny Dell to return to ESPN and break down all the statistical nonsense associated with Bucs games every week. She's been gone for almost two years and Joe still hasn't gotten over it.
Dell would have had a field day with the sad odds for the Bucs tomorrow night in Minnesota, per the Star-Tribune. Home teams on Thursday Night Football are winning at better than a three-out-of-four clip historically.
Thursday night home-field dominance is nothing new. Going back to last season, home teams are 13-4 on Thursday nights. That's a .760 winning percentage compared to a .615 winning percentage (64-40) enjoyed by home teams overall this season. 

In a league of parity, a seemingly small thing such as a condensed schedule favors the home team.
Throw in that the Vikings are undefeated at home, and Thursday is a tall order for a young team like the Bucs.
Many Buccaneers have told Joe how much this 2012 tea, feeds of its high-energy practice time, especially the weekly practices in full pads that aren't done by every team.
But this week, rightfully so, the Bucs needed to rest on the short week, and are flying out today.
None of this matters once the whistle blows Thursday, but it does illustrate the long odds facing the New Schiano Order.