Talib Suspended Four Games
October 13th, 2012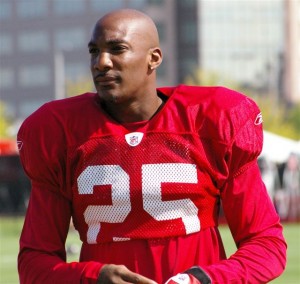 The guy just can't stay out of trouble. And now it's official that Talib is more trouble to the Bucs than he's worth.
Add illegal pill-popping to the list of adjectives to describe the troubled cornerback. He was suspended for four games by the NFL effective tomorrow.
Per the statement below from the Bucs, Talib popped an Adderrall pill without a prescription before the season — and got caught.
Aqib Talib:

"Around the beginning of training camp, I made a mistake by taking an Adderall pill without a prescription. This is especially regrettable because, for the past several months, with Coach Schiano's help, I've worked very hard to improve myself — professionally and personally — as a player and a man. I am truly sorry to my teammates, coaches and Buccaneers fans, and I'm disappointed in myself. I will work diligently every day of this suspension to stay in top football shape and be ready to help this team in the second half of the season. I have chosen to be immediately accountable for the situation I put myself in, which is why I will not exercise my appeal rights and will begin serving the suspension immediately."
Per the federal government on Adderall:
Why is this medication prescribed?

The combination of dextroamphetamine and amphetamine is used as part of a treatment program to control symptoms of attention deficit hyperactivity disorder (ADHD; more difficulty focusing, controlling actions, and remaining still or quiet than other people who are the same age) in adults and children. Dextroamphetamine and amphetamine tablets are also used to treat narcolepsy (a sleep disorder that causes excessive daytime sleepiness and sudden attacks of sleep). The combination of dextroamphetamine and amphetamine is in a class of medications called central nervous system stimulants. It works by changing the amounts of certain natural substances in the brain.
A free agent after this season, Talib will surely come cheap wherever he lands. It would be a stunner if Tampa Bay gives him yet another chance.
That was one expensive pill.