Aqib Talib's Days With Bucs Numbered
October 13th, 2012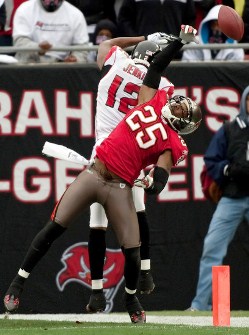 Joe must have been overcome with ESP (not N) this morning.
After having a fuzzy head from swilling many, many beers last night after watching an MLB-record comeback by the Cardinals over the Nats, Joe woke up wanting nothing more than to suck caffeine and veg on his leather couch and inhale college football.
With so many blowouts, Joe was drawn to Northwestern at Minnesota and noticed a Minnesota cornerback by the name of Troy Stoudermire. The dude was all over the field, making solid open field tackles and Joe offered that Bucs fans should keep an eye out for him, especially since Stoudermire holds the Big Ten record for kick return yards.
Moments later, Joe learns of Aqib Talib's latest run-in with rules.
As Bucs fans know by now, Talib was suspended effective now, for the next four games for what the Bucs say was a violation of the NFL policy on performance enhancing substances.
Talib claims he took Adderall "without a prescription,which is just mindblowing to Joe for the simple fact that obtaining any type of prescription medicine other than from a doctor is breaking the law.
Talib's contract is up after this season. At best, Talib is a gifted, yet terribly inconsistent cornerback and frankly, cannot be trusted. If you cannot be counted on to suit up on Sundays (or Thursday or Monday nights), and your play is wildly inconsistent, then what's the point?
Though Talib has been one of Greg Schiano's staunchest supporters, the NFL is a business, no matter how team executives may feel about a player.
Thus, Talib will very likely be playing next year wearing a different-colored jersey.