Quincy Black Doesn't Care Who Chiefs QB Is
October 11th, 2012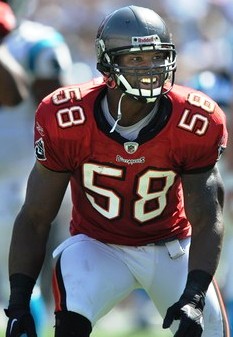 Now Joe has already made the point that the Bucs may have been better off facing embattled Chiefs quarterback Matt Cassel than backup, pretty boy, journeyman Brady Quinn Sunday at the stadium on Dale Mabry Highway.
Cassel today was ruled out for Sunday due to a concussion he suffered against the Baltimore Crows. As a result, Quinn will start for the Chiefs (though Chiefs coach Romeo Crennel did float the crazy, hard-to-believe premise that third-stringer Ricky Stanzi may start. Yeah, and Rachel Watson will be hanging on Joe's arm all weekend, too).
The reason why Joe is of the mind that the Bucs were better off facing Cassel is because he is an immobile statue, and a turnover machine like no other.
The Chiefs have coughed up 19 turnovers in five games — 19! Nearly two-thirds of those turnovers (13) came thanks to Cassel. He's thrown nine picks and put the ball on the ground four times.
In case you are counting at home, that's nearly three turnovers a game by the Chiefs quarterback.
Cassel has played Santa Claus so often this season, the Salvation Army wants to hire Cassel to stand in front of stores after Thanksgiving and annoy people by ringing a bell.
Even though Quinn hasn't exactly established himself as a legitimate NFL quarterback, he can't possibly be expected to give away the football more than Cassel.
But Quincy Black doesn't see it that way. The Bucs strongside linebacker believes there isn't much of a difference between Cassel and Quinn. He talked to Joe yesterday about which quarterback the Bucs would prefer to face.
JoeBucsFan: Matt Cassel has been a turnover machine this season. He gives up three a game. It looks like he won't play this Sunday. Is this one of the rare times that you'd rather face the starter than a backup?

Quincy Black: We are preparing for the Kansas City Chiefs, whoever is behind center. They are an explosive offense and we have to be prepared for that. As for whoever is under center, they are both NFL quarterbacks and it is an NFL team you are facing. And you are trying to get a win every week.

Joe: Preparing for two quarterbacks, or three, how does that mess you up as a defense, or does that mess you up?

Black: We prepare for the looks they like to do and you try to work off of that. You base everything off of that, not so much who is behind center. Each [quarterback] has his own strengths and weaknesses and we will work towards that but at the same time, it is the NFL and these are NFL quarterbacks.

Joe: Brady Quinn hasn't played much in the past couple of years, so is it a guessing game to prepare for his strengths and weaknesses?

Black: The thing is, he is an NFL quarterback. It's not like they brought him off the street. It's his second year with them I think, right? He knows the system. He will get the respect from us he deserves.
As Joe stated with Black, Sunday may be one of those weird times when a backup could be more dangerous than the starter. As Black inferred, the Chiefs have dangerous offensive weapons with Jamaal Charles, Dwayne Bowe, among others. If Quinn can be a little more accurate than Cassel, this could be a helluva problem for the Bucs.