Pushing The Envelope
October 27th, 2012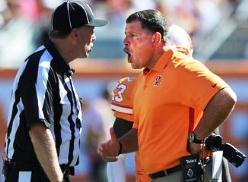 If people weren't paying attention to the Bucs after they had the world champions on the ropes in their home crib, before letting the champ get the last knockout punch in, then the NFL sure took notice with how the Bucs chain-whipped the Vikings on the league's own network before the eyes of the nation.
This may be a pattern of sorts.
Friday, scone-loathing, popcorn-munching, craft beer-guzzling, Marriott-sleeping Peter King of Sports Illustrated appeared on the "Rich and Booger Show," co-hosted by Rich Herrera and Booger McFarland, on WHFS-FM 98.7 to talk Bucs and mostly, NFL.
King was asked about how kind of dude Schiano is and King, in so many words, said Schiano is anything but a guy who coaches from the norm, guy who is willing to be unconvention if that's what it takes to obtain a victory. He's different. King was pressed for details and explained.
Rich Herrera: What are the whispers you hear around the National Football League about how he is bucking the system?

Peter King: Only that — I will never forget, I remember talking in the offseason with Kevin Demoff, who formerly worked with the Bucs and now is COO of the Rams. They had a coaching decision to make and Demoff talked to Schiano at one point in the coaching search. No question in my mind if they lost out on Jeff Fisher they were going to go hard after Greg Schiano.

I think people in the league right now, [Schiano] will engender a lot of criticism because of things like trying to break up the victory formation and obviously being charged with, his players being charged with, trying to verbally disrupt the simulation of a snap, a cadence, which is illegal. But I think he is going to challenge the rules and I think he will go right to the edge of the rules to do as much as he can to try to win.
That was an interesting observation from King. Schiano has never struck Joe as a guy who is willing to bend the rules. Hardly. But Joe does see where King may be coming from.
If there is a rule that may be vague, and exploited to get an edge, why not test it? It's an interesting observation King made.
Schiano's image is all about structure, yet his coaching style may be a bit rogue.
[Hat tip Jerry Petuck.]