Mason Foster Continues To Dominate
October 14th, 2012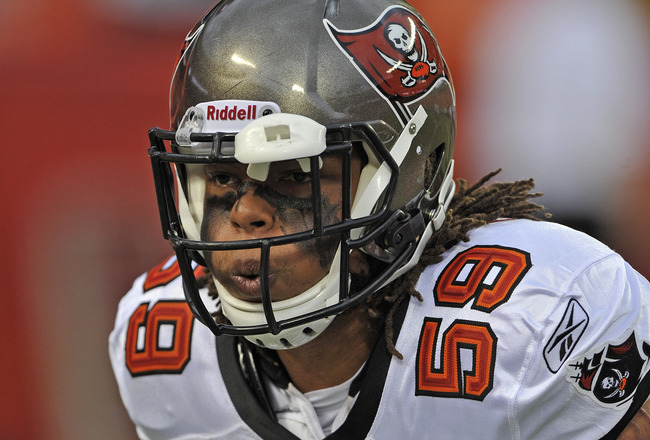 Joe is of the mind that there is no player that has improved from last season to this year more than Bucs middle linebacker Mason Foster.
The second-year man from Washington almost seems like a different player. Last year he seemed lost, at times, almost intimidated.
This year? Foster has been nothing short of a beast. It's almost like Foster wants some pineapple, and he may very well get some.
(For those not getting NFL urban lingo, pineapple = Pro Bowl.)
Today was another perfect example. He had seven tackles and some of them were big-gain stoppers. Jamaal Charles broke through massive hole for what appeared to be a potential long, long run when Foster raced in, plugged the hole, and stopped Charles for just a five-yard gain when it seemed as if it could have been a 20-yard run.
Foster, who smiles ear-to-ear when he is reminded of his improved play, credits his newfound toughness to the improved play of the defensive line.
"When [defensive tackles Gerald McCoy and Roy Miller] are getting double-teams up front, it makes it easier for me and Lavonte to make plays," Foster said. "When they play like that it makes it hard for any team to run the ball. We were flying around, banging, playing off of each other, safeties coming down, feeling, great calls by Coach Sheridan. We just execute our game plan and we play hard, that's what happens.
"If someone makes a mistake, we cover for them. Getting up field and getting penetration. When a guy had to make a move four years behind the line of scrimmage, it makes it better for us.
"Sometimes, we may be playing pass and they run it on us, but we just execute what we have to do, and play hard and we will be straight."