Lavonte David: Run Stopper
October 25th, 2012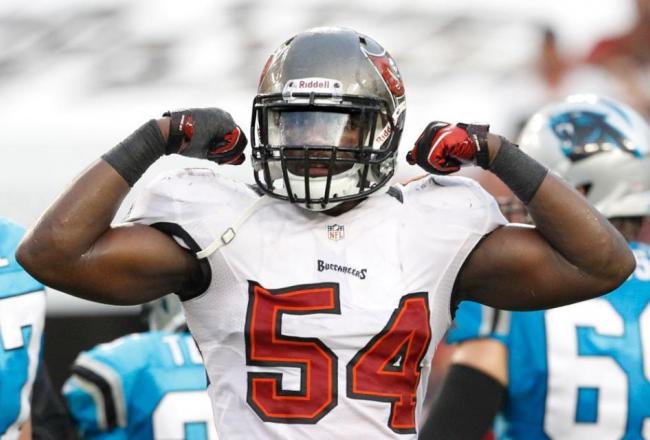 The returns are quite early thus far, but it's hard to argue with the top three players Bucs rock star general manager Mark Dominik hand-picked in April's draft.
Running back Doug Martin may have finally turned the corner, safety Mark Barron seems to be the next coming of Ed Reed, and how can anyone be chagrin with the play of linebacker Lavonte David?
The outside linebacker has been a terror and the numbers crunchers at ProFootballFocus.com have proof, so types Nathan Jahnke.
Tampa Bay Buccaneers: Lavonte David (2-58) is leading all 4-3 outside linebackers in Run Stop Percentage at 14.7.
Whoa, now. That's pretty strong stuff. Outside of coaching, David may be the biggest reason the Bucs defense has improved.
(Joe still stands by his conviction that the most improved Bucs player is Mason Foster, and Joe believes he may have some pineapple in his belly in February.)
Just think of last year (provided you are sitting down). Once running backs got around the edge on the weakside, it was like an on-ramp to I-275 for running backs. The way the defense scrambled, it must have been what it looked like with the Union army retreating in the first Battle of Bull Run.
David has simply put a stop to all of that nonsense and is a major cog in the NFL's top rush defense.