It Is Official: Brady Quinn To Face Bucs
October 11th, 2012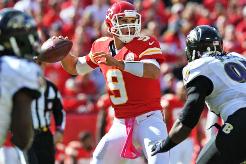 Joe really isn't sure the following is good news:
Per Chiefs beat writer Adam Teicher of the Kansas City Star, embattled Chiefs quarterback Matt Cassel has been ruled out for Sunday's game against the Bucs at the stadium on Dale Mabry Highway and instead, as expected, backup Chiefs quarterback Brady Quinn will start.
@adamteicher: Chiefs have finally ruled Cassel out of Sundays game.
Again, Joe isn't sure this is a good thing at all. Cassel has been no less than horrid this season. He was averaging three turnovers a game all by himself. He has 13 turnovers through five games, including four fumbles.
Quinn can't possibly turn the ball over any worse than Cassel has. One could argue — from a Chiefs' standpoint — that Cassel missing a game is addition by subtraction.
Later, Joe will have an item from Bucs linebacker Quincy Black saying he really doesn't care who the Chiefs quarterback is, and why that is.
Stay tuned.