"I Love Trueblood"
October 1st, 2012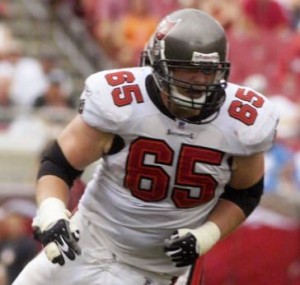 Beat out for a starting job by Demar Dotson (who was beaten badly Sunday by Ryan Kerrigan), Bucs veteran right tackle Jeremy Trueblood has an admirer. That would be Greg Schiano.
Speaking to media types today, Schiano dismissed any talk that there are hidden meanings to Trueblood being an inactive player for yesterday's game.
"I love Trueblood," Schiano said, calling Trueblood "hard-working, attention to detail, tough."
"Blood is a team guy," Schiano continued, explaining Trueblood was an eager and active participant on gameday.
So why was Trueblood a cheerleader Sunday? Schiano said it was a simply a matter of other offensive lineman being more versatile as reserves.