"I Feel The Best I've Ever Been As A Player"
October 14th, 2012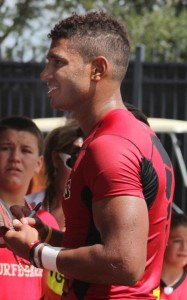 You might not know it by looking at Josh Freeman on the football field, but listen to Freeman talk, on radio or via newspaper quotes, and the guy is brimming with confidence.
"I feel the best I've ever been as a player," Freeman told his hometown Kansas Star this past week.
In the story penned by Tod Palmer, Freeman went on to say numbers and "fantasy football mumbo jumbo" are not factors in his development. It was a point Freeman also made with Steve Duemig on the Buccaneers Radio Network on Thursday. Essentially, Freeman feels that his dropoff in performance from 2010 does not mean he was a better quarterback that season.
Joe gets that mindset but it's not a meaningful reality in the NFL, where you're in the ultimate results business.
Regardless, Freeman has done good things this season, enough to build on and stay confident. Consistency is his biggest issue, something he needs to fix immediately so the Bucs can rack up some Ws and soothe a beaten down fan base.