Getting Doug Martin Loose
October 5th, 2012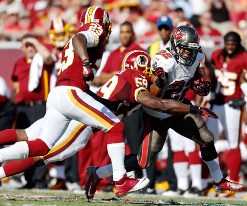 Joe's not sure it is fair to judge a running back by just four games. Thus far, Bucs fans are waiting for the Doug Martin, he of the running back the Bucs traded up for in the draft, to arrive.
Martin has been the proverbial bellcow for Greg Schiano's run-first, run-second offense, but only a scant few times has Martin been able to break runs of double-digits.
Sure, a lot of it is because the right side of the Bucs' offensive line is a mess with the loss of injured Davin Joseph and the benching of incumbent starter Jeremy Trueblood.
This is raising concerns with Alan Dell. The Bradenton Herald columnist is of the mind Schiano may want to change his run-first objectives if he wants to have a longer shelf life than his predecessor.
As stubborn as they come, the new Bucs head coach insists he wants a run-first, physical team. He is learning that might not be possible, and if he wants to be around longer than the man he replaced, he might have to change.

The decision to move up in the draft and select running back Doug Martin in the first round has raised legitimate questions.

When Martin was selected, he received rave reviews from those within the organization who wanted him. Now we are hearing stuff like, "have patience" and "he is a hard worker."

Those who described him as the second coming of Ray Rice have lost their voice.
Well, maybe part of the reason Martin hasn't yet become a stud NFL runner is the Bucs have relied on him too much. There is nothing wrong changing things up with a guy who has a career average of 4.6 yards a carry. And the more Blount gets carries, the more dangerous he becomes; not just two or three carries a game.
Lastly, Joe's wondering about the disappearance of Michael Smith.