Doug Martin Gets Teammates Fired Up
October 29th, 2012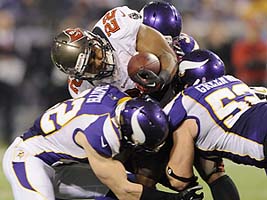 Joe was at the world-renowned Tilted Kilt last Thursday when the Bucs chain-whipped the Vikings on national television. It was a beautiful thing.
The watering hole literally erupted whenever Bucs running back Doug Martin dragged defenders down the field for a first down. But Bucs fans with a drink(s) in their hands weren't the only people geeked over Martin's success.
So too, it seems are Martin's teammates.
Last week Joe spoke with a handful of Bucs who talked about what a great asset Martin is, emotionally, to the team.
"Definitely, it is exciting," Bucs linebacker Adam Hayward said. "Especially a strong guy [like Martin] to get on the turf and go off like that. It's awesome to see. That guy is a workhorse for sure."
Players told Joe that as much as the offensive line gets pumped when Martin abuses defenses using the holes they made, so too are defensive players on the sidelines watch Martin slice through defenses.
"Martin is just Martin," defensive end Michael Bennett said. "He has a tenacity that he doesn't want to go down. He just plays hard every play."
Martin's performance Thursday was the fourth-best performance for a running back in Bucs history.
Martin's big night was not lost on D.J. Ware who was energized by watching his fellow running back.
"Oh, great game, great game," Ware said. Martin "shows he has the ability to run the ball hard; as many times as they gave it to him and get him the ball out of the backfield.
"I don't know if he helps me out but he helps out the team, his productivity, how he gets the offensive line going and the wide receivers going. The defense feeds off him as well. Any time you have a running back who is running hard and making plays, it just energizes the team."