Blount Trade Talk Is Ludicrous
October 28th, 2012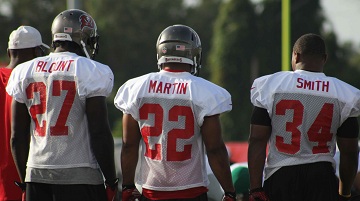 Bucs beat writer Rick Stroud has tossed out silly rumor fodder for Bucs fans to consume today, citing the always reliable "speculation" that LeGarrette Blount is on the trading block before Tuesday's deadline.
Joe finds that completely ridiculous, unless the Bucs are trading for a quality running back.
The way the Bucs have their offense constructed, they'd be foolish to part with their depth at the position. Blount has lost the fumbling that plagued him last season, so that cardinal sin of the New Schiano Order has not been violated. Blount is what he is, an inexpensive and very talented player backing up a better player at a key position. There's no logical reason to ship him out, short of an incredible return, which won't happen because of Blount's soon-to-be-free-agent status.