The Yahoo Hit Piece On Greg Schiano
September 21st, 2012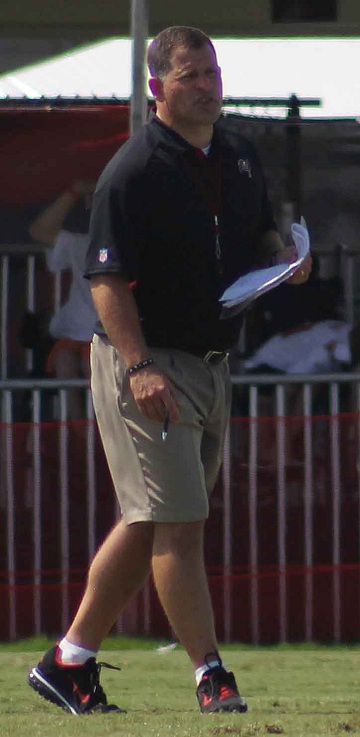 Where does Joe start with the hit piece Yahoo! Sports NFL writer Michael Silver fired at Greg Schiano today?
You can click above to read it, but essentially Silver makes a case with a pile of anonymous sources that Schiano wasn't accommodating to NFL scouts at Rutgers, had the nerve to be unfriendly, and now Schiano has expanded the widespread dislike of himself in NFL circles after daring to break tradition on the Giants' kneel-down Sunday.
Hmmm, funny how none of this surfaced until now and how none of these stand-up NFL executives, guys who surely would never work with Schiano, are too afraid of attaching their names to their hate.
Joe's going to speak for Schiano here and say that the head coach couldn't give a crap about these soft-bellied yes-men who don't like him.
And why should he? Schiano plays by his core beliefs, and if those include a controlling, unfriendly leadership style, then so be it. This is pro football, not freakin' middle school. 
Schiano would be the first to tell you he's disinterested in popularity contests. Remember, this is the same man who took over the Rutgers head coaching job, arguably the worst program in the country, when he had other jobs available or could have returned to the NFL as an assistant.
Second, Joe must comment on one quote in the story specifically:
"[Schiano] tried so hard to be a hard ass and went out of his way to be rude. When you'd pass him in the hallway, you might say, 'Good morning,' and he'd look at you like you're a [expletive] idiot. A guy like him doesn't realize that probably half of us played the game at a really high level – it's completely condescending. He would go out of his way to make you feel as uncomfortable as he could."
Frankly, this is more a cultural New Jersey thing than anything else. Joe (this Joe anyway) grew up a handful of small towns away from Schiano and can attest that to this day, if you say "good morning" to someone out in public there (including store cashiers) most of the time they will look at you like you're a "[expletive] idiot," as referenced in the quote.
Is this a good thing? No. But it's definitely part of the culture, and surely locals don't walk around crying and holding grudges because a friendly hello was ignored.
Joe doubts Schiano was going out of his way to make people feel uncomfortable at Rutgers. He likely was just being himself. And there's a distinct difference there.
Silver wants us desperately to believe Schiano is a bully, rather than a team-first guy driven to win games his way and completely disinterested in investing time in anything unrelated to his football team.
Joe can only assume Schiano didn't respond the last time Silver greeted him.