Schiano Has Good Idea What First 15 Plays Are
September 7th, 2012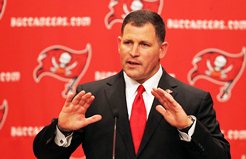 In his post-practice press conference today, the last he will have with the Tampa Bay pen and mic club prior to Sunday's season opener against the stinking Panthers, Bucs coach Greg Schiano almost seemed playful. He was certainly in an upbeat mood.
When eye-RAH! Kaufman of the Tampa Tribune asked Schiano if he knew what the first 15 plays offensive coordinator Mike Sullivan would call Sunday, Schiano looked at eye-RAH! and nodded his head, yes. When eye-RAH! decided to pry further asking Schiano if he would be kind enough to explain the plays, Schiano, with a twinkle in his eye, smiled and said, "No."
But the first 15 plays, despite what Schiano said, aren't exactly locked in.
"I want [Sullivan] to have a feel," Schiano said. What he meant was, yes, the Bucs have 15 general plays already scripted, but what type of defense and what type of down and distance the play is will dictate exactly what Sullivan calls.
"That's what I hired him for," Schiano said in breaking down just how the first 15 plays are called. "I want him to do it by feel."
Schiano noted that some coaches/offensive coaches are rigid with their first 15 plays and won't deviate. Not Sullivan, per Schiano's instructions.
"Some [coaches] read [the script] no matter what," Schiano said. "We mix it up depending on who you are playing."