Schiano Confirms Shipley Will Return Punts
September 21st, 2012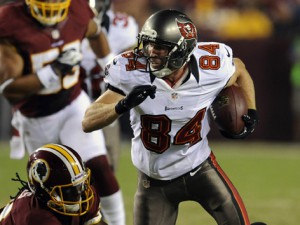 The leader of the New Schiano Order cleared up his kick and punt return picture after practice at One Buc Palace today.
Asked if wide receiver Jordan Shipley was his top punt returner now that Sammie Stroughter is lost for the season, Greg Schiano said the following:
"Is he the guy? Good chance he'll be the guy," Schiano said. "You know, there's other guys who do it on the team. But I'm thinking he'll probably be the first one out there. Yeah."
Schiano was more direct in referring to Arrelious Benn as his top returner. Earlier this week, Schiano cited Benn's ability to be unaffected by arm tackles as something that excites him.
Interestingly, today Schiano mentioned Shipley and Underwood as guys who also return kicks. It seems Michael Smith is off the coach's special teams radar right now.