Like Slice Masters On Facebook, Win Pizza, Jersey
September 13th, 2012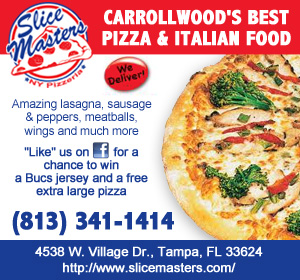 Would you cruise over to Carrollwood to feast on affordable, delicious pizza, awesome lasagna, absolutely stunning wings and Italian food?
Do you want to win a fancy jersey of your favorite Tampa Bay Football team?
These are all reasons to "Like" Slice Masters NY Pizzeria on Facebook, and then head over there for lunch or dinner. It's a true find at 4538 W. Village Dr., Tampa, FL 33624. They deliver, too. (813) 341-1414
For a shot to win the jersey, all you have to do is "Like" Slicemasters on Facebook, and they'll be picking a winner among their Facebook friends.
For free pizza, email joe@joebucsfan.com with your name and physical address — subject line Pizza — and Joe will pick winners for several free extra large pizzas with toppings. Tampa addresses only, please.